Choosing the perfect New Hampshire campground to park your rig at can be time-consuming and stressful. Which RV site should you choose? Does location matter? What are the benefits of choosing an RV resort in Ossipee, New Hampshire compared to elsewhere? We're here to help you answer these questions and provide you with 5 reasons why Westward Shores is the best choice for RV camping in New Hampshire!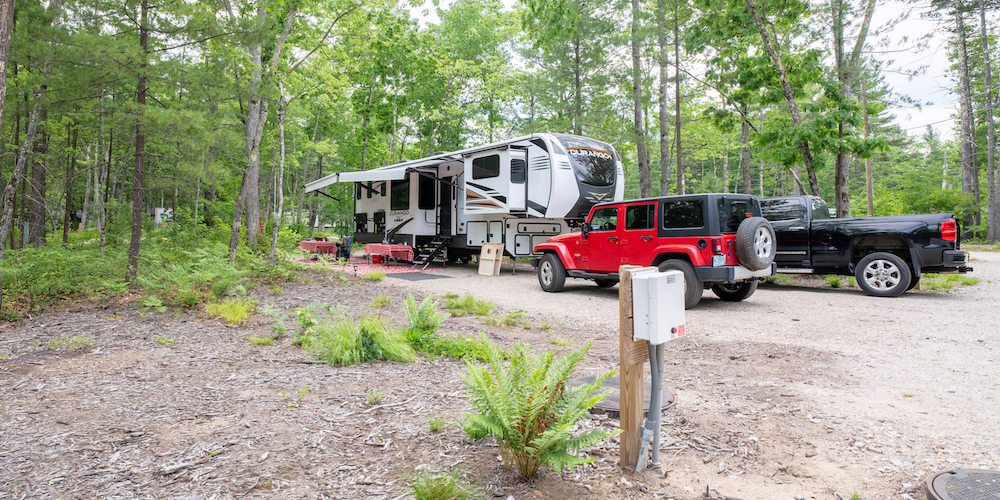 40 RV SITES TO CHOOSE FROM
Located on the Northwest Shore of Ossipee Lake in West Ossipee, Westward Shores Cottages & RV Resort is sure to be a family favorite New Hampshire campground. Experience gorgeous lake views and natural surroundings everywhere you look in this peaceful, quiet setting. Plus, with our 40 diffent site locations, you're sure to find the perfect location for you and your family! Check out our Camp-Resort map here. Our Ossipee, New Hampshire campground has a site for everyone!
All of our RV sites are Premium RV Site types and are a great option for RV campers who are looking to enjoy a full hook-up campground. Premium RV Sites include electric, sewer, and water hook-ups, along with a fire ring and picnic table. Plus, these sites are also pet friendly! Located along the wooded section of our Camp-Resort, these sites are very spacious and offer everything you need for a great stay!
Near The Attractions
If you're looking to book an RV Site that's near the indoor and outdoor swimming pools, recreation building, and all of our other attractions, we recommend booking a Premium RV Site in the 600's site numbers. This way, you can make the most of your stay by taking advantage of all the attractions that are near your site.
Secluded In The Woods
Enjoy RV camping among nature when you book a Premium RV Site in the 500's site numbers. By choosing one of these RV sites, you'll be able to enjoy a secluded and spacious area for you and your family to make memories around the campfire.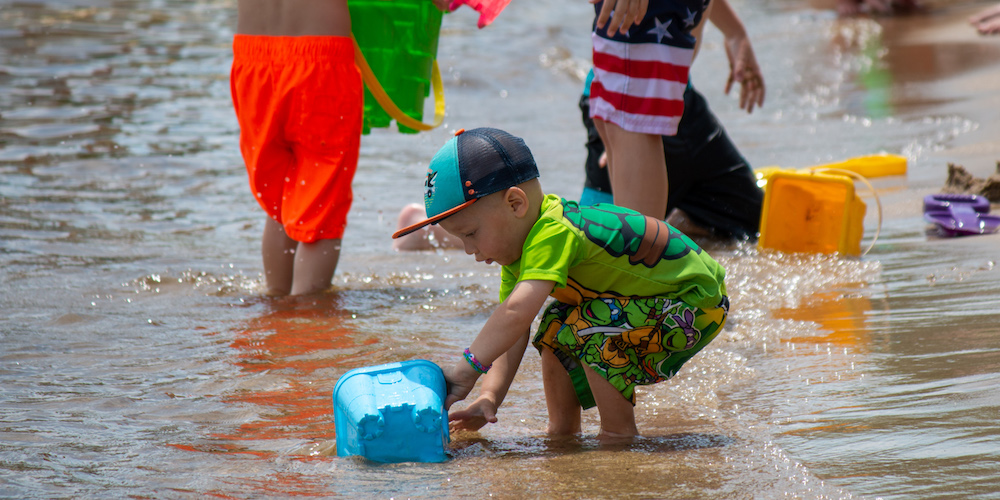 15+ ATTRACTIONS INCLUDED WHEN RV CAMPING
We have so many attractions, you may not have time to do them all during your stay! Plus, over 15 of our attractions are included when RV camping! These include our main attractions like the indoor and outdoor pools, jumping pillows, playground, sports courts, barrel train, select arts & crafts, and so much more. Make sure to view all of our attractions at our New Hampshire campground and start planning your itinerary today!
Although the majority of our attractions are included when RV camping, we do offer some attractions at an additional cost. These include Lazer Tag, water rentals, and select arts & crafts. Looking for the best way to take advantage of all the fun that we have to offer? Check out our Fun Passes! Available during peak season (June 17 – August 28), our Fun Pass gives you instant access to all sorts of added fun like our paid activities, tasty treats, & more!
Whether you're looking to add one or all of these attractions to your stay, or just stick with the included attractions, your RV camping experience at Westward Shores is sure to be one you'll remember.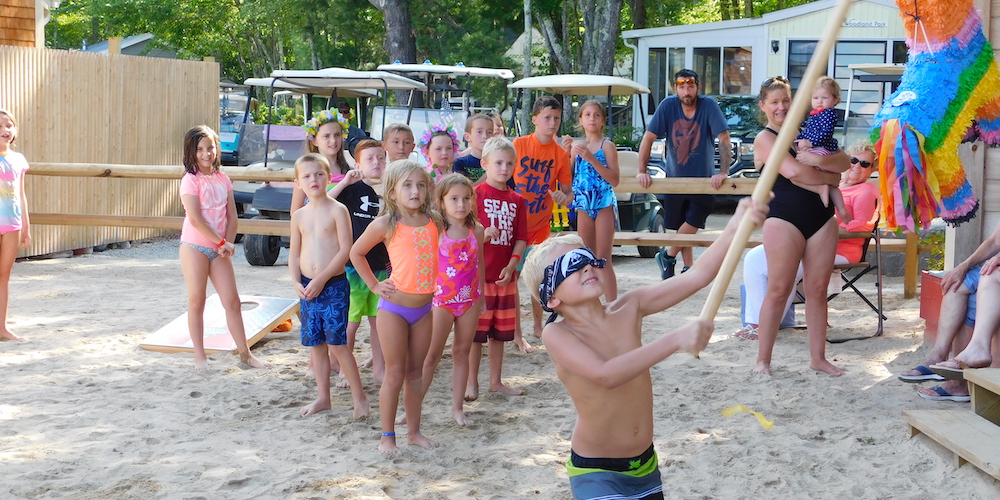 THEMED EVENTS ALL SEASON LONG
Looking for another reason to park your rig at our Camp-Resort? We have themed events and activities happening all season long! From May 12 - June 16 & August 28 - October 15, you can enjoy themed events during the weekends. During our peak season, June 16 - August 27, themed events and activities are planned all week long, so the fun will never end during your stay! From Mermaids & Pirates Weekends to Wet N Wild Weeks, you can expect themed activities from dawn to dusk.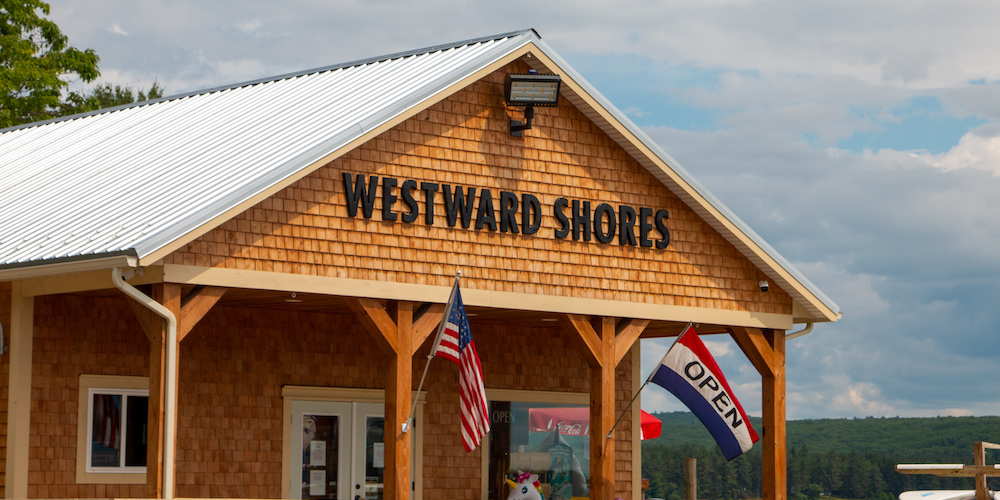 ON-SITE FACILITIES
We want to make your stay easier and more fun, so our Camp-Resort provides top-rated facilities that are available for all of our campers! If you need to grab some ice, charcoal, firewood, or forgot to bring supplies, our Marina Market is here to provide anything you may need. The Snack Bar offers a variety of food options like hamburgers, pizzas, and ice cream so you don't need to meal prep every night. We also have the Dog Park where your furry friend can roam around in a fenced-in area, or the Dog Beach to let your pups cool off in the lake. In addition, we have laundry services, an outdoor pavillion, and more on-site facilities. No matter the need, we have a service to make your RV camping experience stress-free!
We hope these reasons provide you with a better understanding on why Westward Shores Cottages & RV Resort has the best RV camping in Ossipee, New Hampshire. With many RV site options, you're sure to find a site location perfect for your taste. Plus, our New Hampshire RV campground is located right along the shores of Ossipee Lake, giving you a prime view of the great outdoors. Lastly, our facilities, included attractions, and themed events make our Camp-Resort a stress-free, yet fun-filled option for your New Hampshire camping trip. Make sure to book your RV site before your favorite location is gone - we can't wait to show you all that our Camp-Resort has to offer!