Located in West Ossipee, New Hampshire, Lake Ossipee is a hidden treasure and is located in the backyard of our Camp-Resort! This 3,257-acre lake is known for its excellent fishing, crystal clear waters, and gorgeous scenery - making it the perfect destination to book your lakefront vacation rental! From our lakefront cabin types, various add-on options, private beaches, and peaceful setting, Westward Shores Cottages & RV Resort is the place to be this summer.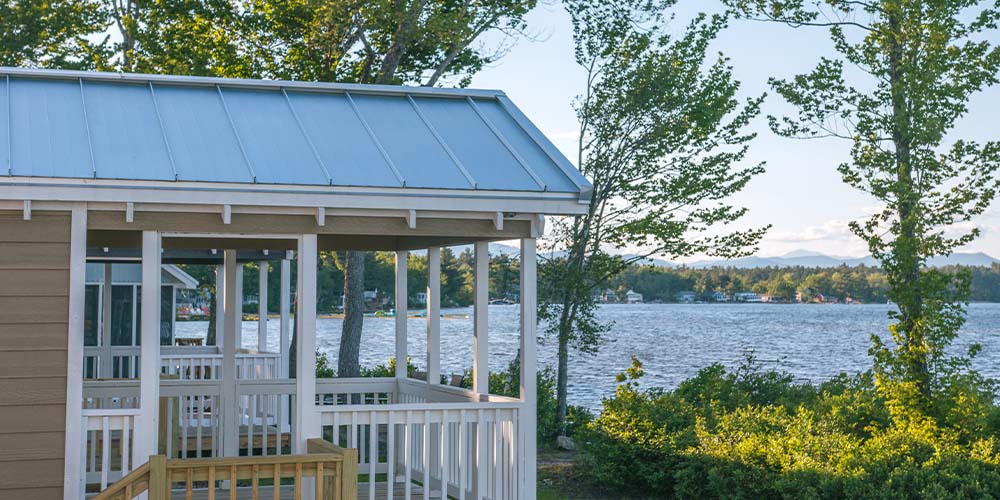 Lakeview Cabin Rentals
Out of our 15 different cabin types, we offer 4 cabin rental options that provide gorgeous, lake views of Ossipee Lake! These cabins are a great option when searching for the best New Hampshire vacation rentals for your next family getaway. Keep reading to learn all about our 4 lakeview cabin options!
Shorepointe Cottage
Our Shorepointe Cottage is the prime choice for those looking to book a lakefront retreat. This gorgeous cottage is guaranteed to exceed your expectations with sleeping space for up to 11 people, a full kitchen, bathroom, wraparound porch, and outdoor shower! Enjoy access to your own private beach, a boat slip, and two kayaks! There's only one Shorepointe Cottage at Westward Shores so if you're able to snag this beachfront cottage, you're in for a one of a kind glamping vacation!
Lakefront Cottage
Situated right on the waterfront of our Camp-Resort, our Lakefront Cottages are a great option for those looking to enjoy spectacular lakeviews!
Say hello to comfort and lots of space when you book one of our Lakefront Cottages! With room to sleep up to 8 people, plus amenities like a full kitchen, bathroom, loft space, and porch, this cabin type has it all. There's also a charcoal grill, picnic table, and fire ring for outdoor entertaining. When booking this cabin type, you also get a golf cart!
Lakeview Cottage
Located near the Lakefront Cottages in the peninsula of the Camp-Resort, these cabin rentals are great for families. While there's no direct access to the lake, each Cottage has a view of the lake scenery.
Get away without giving up the comforts of home with a full kitchen, bathroom, a private bedroom, porch with ceiling fan, and an outdoor space with a charcoal grill, picnic tabke, and firering. These Cottages sleep up to 8 people so invite your friends and family! Oh, they also come with a golf cart for easy access to the rest of our Camp-Resort!
Beachfront Cottage
Arguably the best location in the Camp-Resort for a #lakelife vacation, this cabin rental is THE spot to be this summer.
The beautiful sparkling white and wood cabin interior offers sleeping space for up to 8 people and top-notch amenities like a full kitchen, bathroom, lofted area, AC/heating, and more. There's also a charcoal grill, picnic table, and fire ring. Enjoying a sunset from this spot is a bucket list must.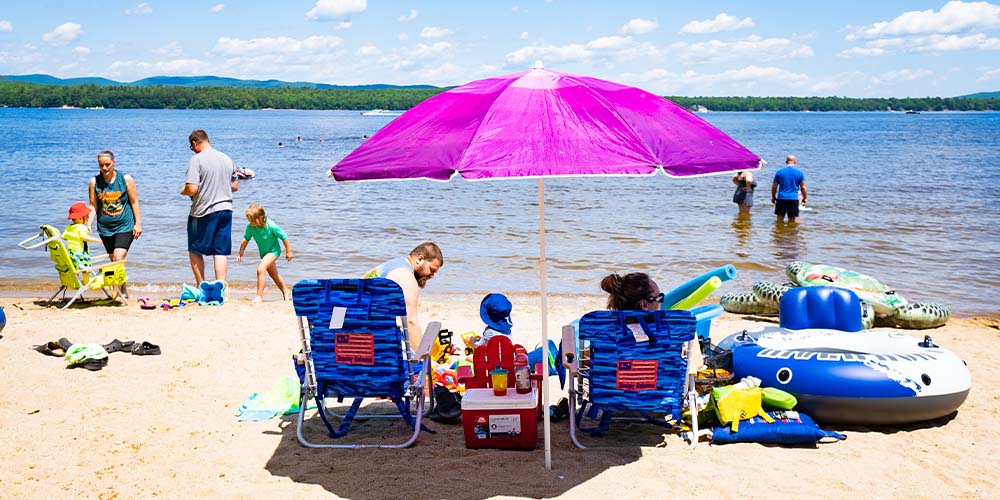 Sandy, Private Beaches
When staying at our New Hampshire campground, you instantly get access to over 2,000 feet of sandy shore front for swimming. Both beaches have a gradual entry into the crystal clear water of Lake Ossipee, and are only accessible when staying at our Camp-Resort. This way, you can enjoy the water without feeling too crowded with people! Whether you're looking to sunbathe along the water, build a sandcastle, or swim with friends in the lake, our Camp-Resort has something for everyone. We also have a dog beach so your furry-friend can have some fun too! Don't forget to pack plenty of sunscreen, beach towels, and sand toys!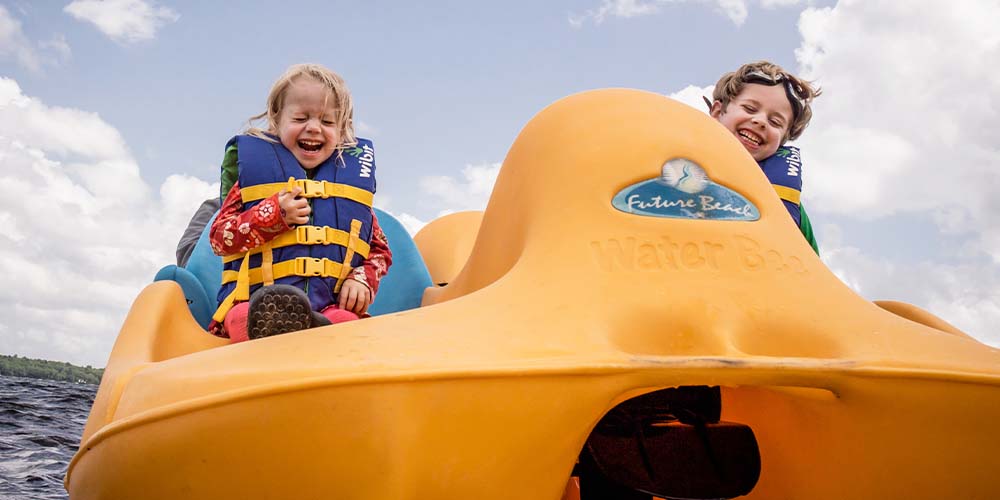 Water Rentals
Although relaxing along the sandy beaches or swimming the day away is a great way to spend your family vacation, don't forget to check out our water rentals! If you're looking to explore Lake Ossipee at your own pace, booking kayak is the way to go. Or, if you'd rather explore the lake with a friend, our pedal boats are a great option! Lastly, if you're looking to enjoy the gorgeous lake views in a more challenging way, rent one of our stand-up paddle boards and test your balance skills. No matter what you choose, our water rentals are great for making family memories.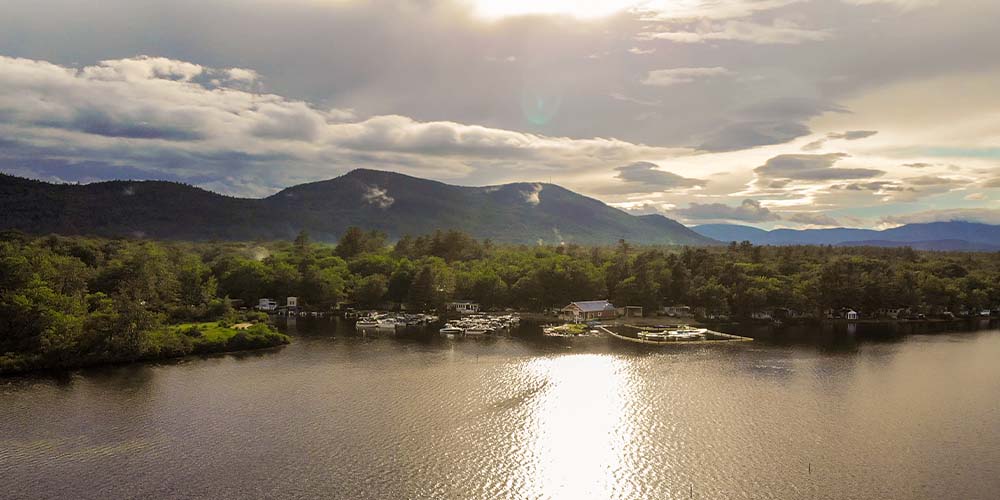 Water Views Around Every Corner
When staying at Westward Shores, you can expect breathtaking panoramic views of the lake everywhere you go. From cruising around the lake, to walking onto the porch of your lakeview cabin, you'll feel at ease when taking in views of Lake Ossipee. From the combination of the fresh air and windy breeze, you and your family will feel less stressed when staying along the water.
As you can see, our Camp-Resort provides plenty of perks when you book a lakeview cabin along Lake Ossipee! Due to having limited cabins, we recommend booking your summer getaway now so that you can secure the cabin type, location, and dates that work for you and your family. You can book online here or give our reservations team a call at 603-539-6445 to book your lakeview cabin. See you on the water!