Escape to Westward Shores for a romantic weekend getaway near Ossipee, NH! We have a variety of secluded cabin rentals that are perfect for honeymoons, anniversaries, or just for a weekend away. To get the most out of your romantic getaway, be sure to check out the variety of both on-site and off-site attractions near our Camp-Resort. Keep reading for the best itinerary for couples.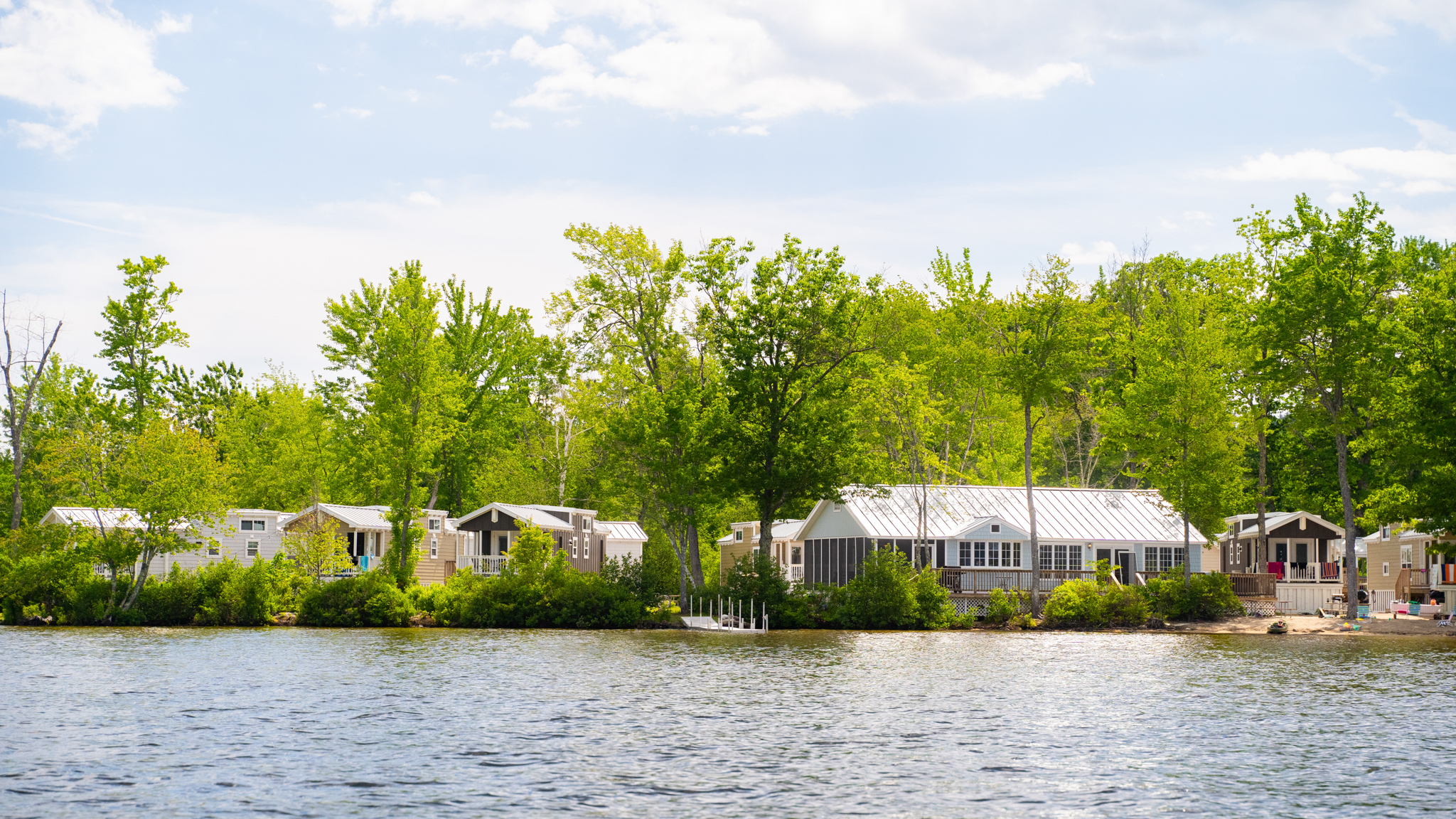 Rent a Luxury Cottage
Here at Westward Shores, we have a variety of luxury cottages to choose from for your stay. Whether you're looking for the best honeymoon cabin or one that's more secluded in nature, we have a cottage rental perfect for you! We listed our top picks below:
A Cottage with a View
Our beach cottages are perfect for a romantic weekend getaway with a loved one! These cabins are equipped with a full bed, kitchenette, a private bathroom, and more. Plus, you can choose from three different locations! Our Beachfront Cottages give plenty of privacy due to the wooded location, our Lakeview Cottages provide a relaxing water view, and our Lakefront Cottages put you right on the beach, with a gorgeous view of Lake Ossipee. No matter which cottage you choose, you can't go wrong!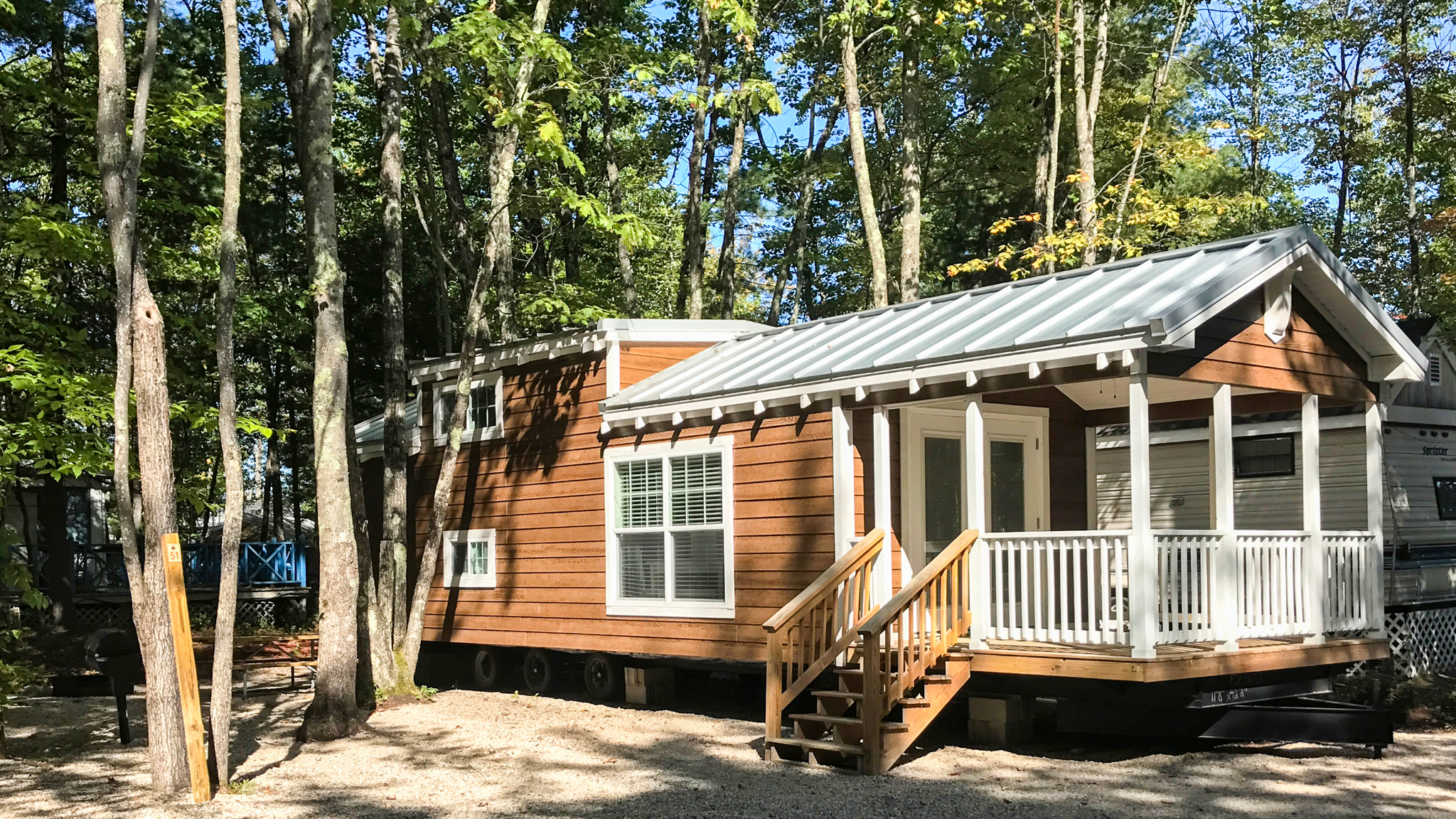 Camping Cabins
Not a fan of tent camping? No problem. Our Camping Cabins are spacious, cute, and the perfect option for a romantic night in! Get back to basics with this option, which features air conditioning and a kitchenette (in large models only).
A Cozy Forest Cottage
Step inside a Forest Glen Cottage or our Pine Forest Cottage and you'll feel right at home! Enjoy a private bedroom, kitchen, bathroom, and lots of outdoor space. Best romantic cottages ever!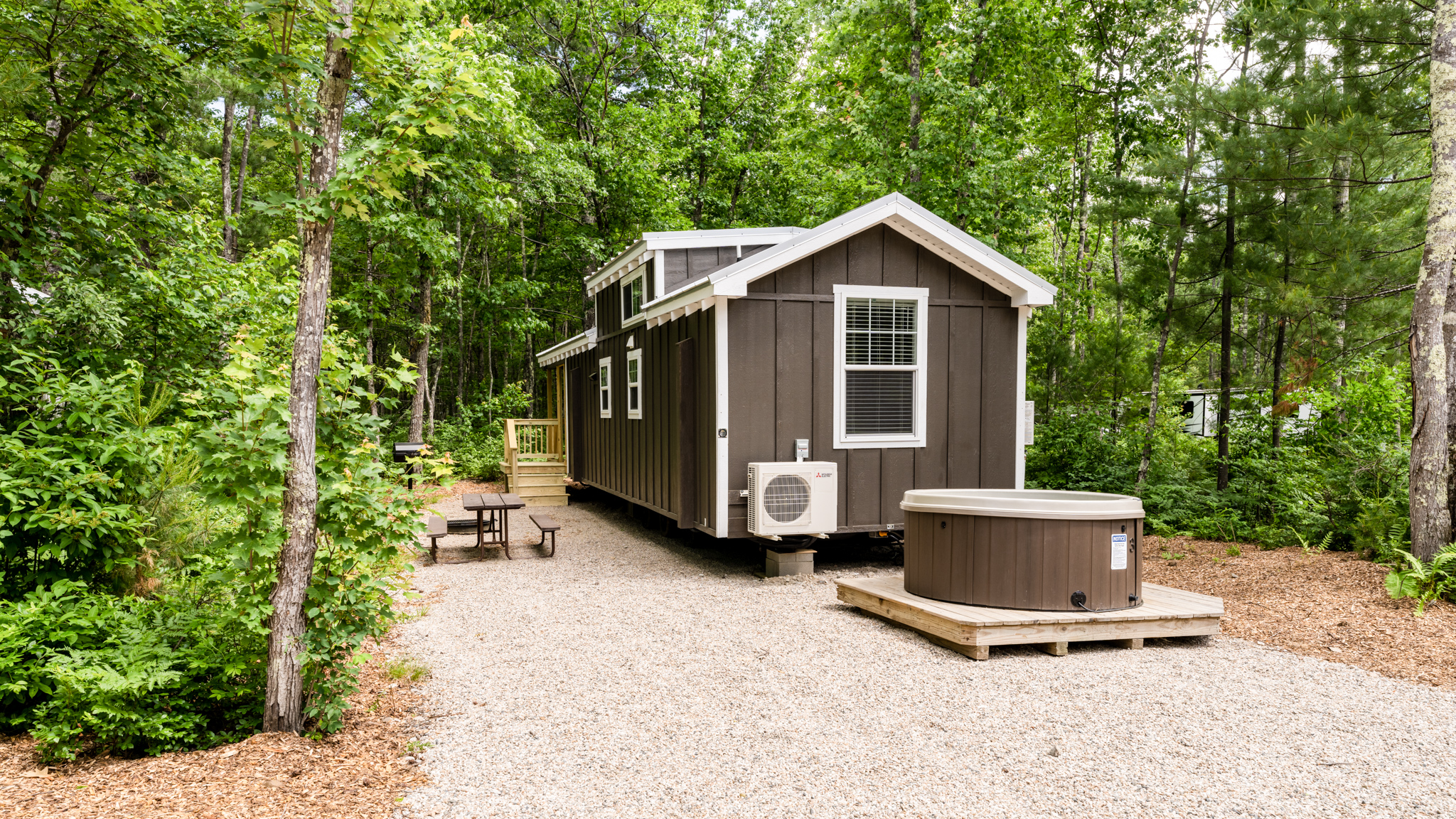 Relax in a Private Hot Tub
Take your romantic weekend getaway to the next level with a hot tub when you book our Pine Forest Plus Cottage! This hot tub can fit up to 5 people (talk about spacious!) and are ready for you to relax under the stars! After a busy day exploring our Camp-Resort or nearby cities like Wolfeboro or Tamworth, soaking in a warm hot tub is the perfect way to end your day.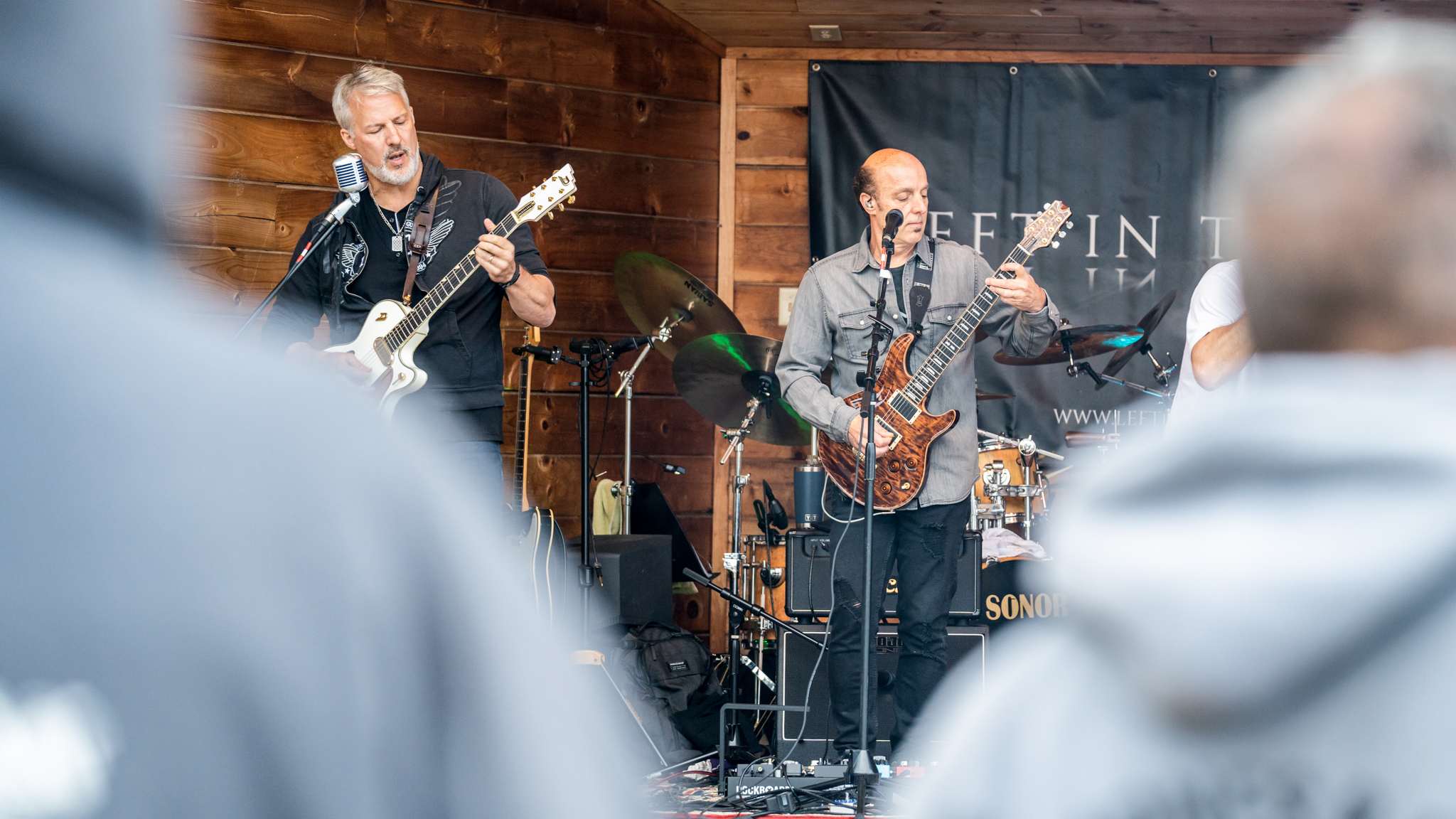 Enjoy On-Site Attractions
Whether you book a stay during the winter or summer, we have something for everyone at our Camp-Resort! If you book a summer stay, be sure to check out the wide variety of water attractions we have available. Lounge at the pool, rent a kayak, stand-up paddle board, or pedal boat for the lake. Don't forget about our live music in the summer! If you're booking a winter stay, be sure to check out our snowmobile trails, fishing lake, and hiking trails. View all of our attractions here.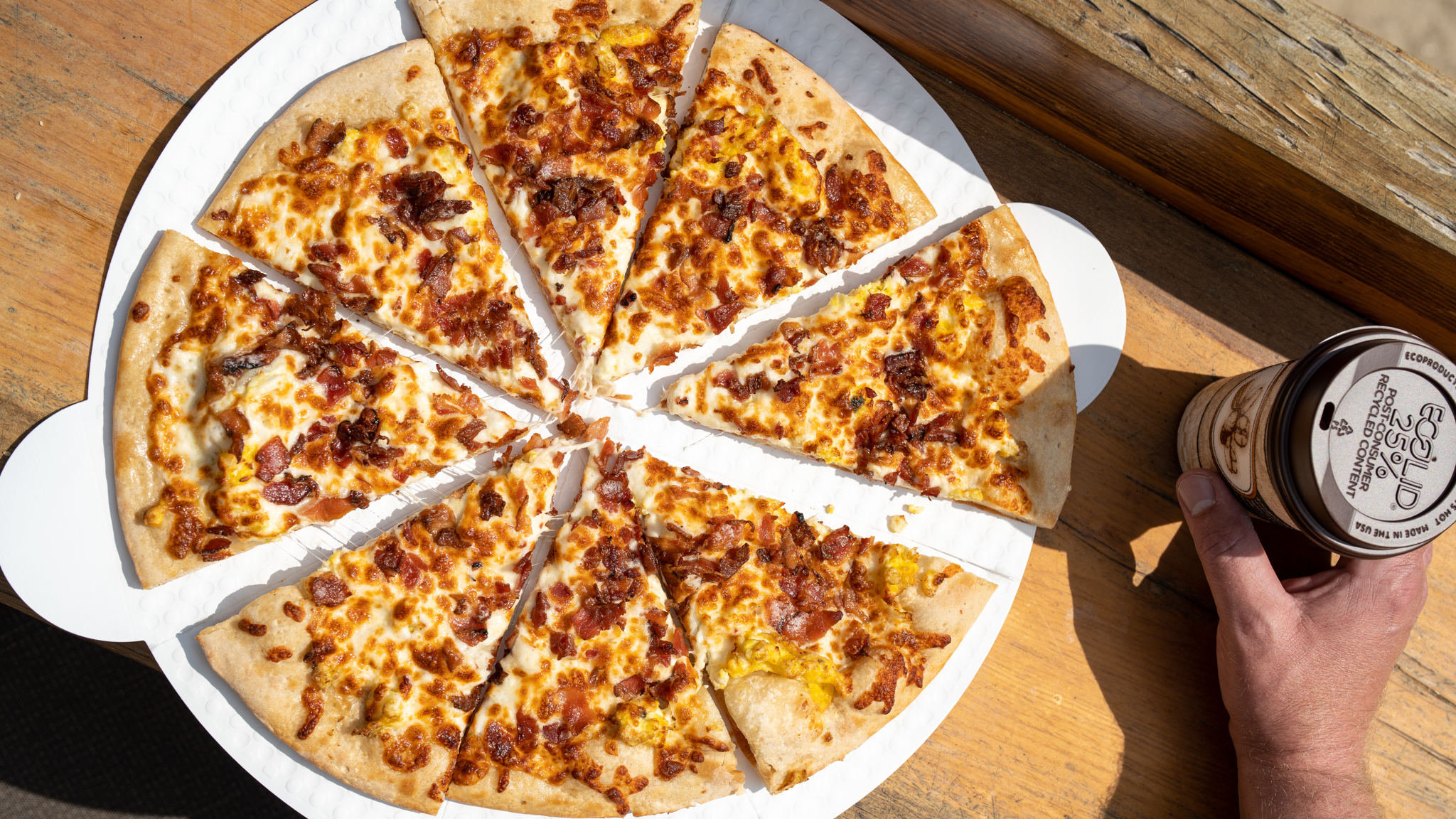 Dining for Two
Enjoy a meal right on the shores of Lake Ossipee when you grab a bite from our Marina Snack Bar! Satisfy your cravings with wood fired pizzas, loaded waffle fries, ice cream sundaes, and so much more!
Escape to Nearby Attractions
Explore the surrounding area when staying at our Camp-Resort! Luckily, our Camp-Resort is only a half an hour away from some unique attractions and an hour and a half away from Portland, ME. See below for some itinerary ideas to add to your romantic weekend!
Tour the Castle in the Clouds
The Castle in the Clouds is a large mansion and tourist destination located near Moultonborough, NH. This mansion includes, walking trails, wine, and more. Plus, who doesn't love a good mansion? Be sure to check out their website hours and information, since this attraction is closed in the winter months.
Take a Trip Across the State Border
Take a roadtrip just 20 minutes away into Maine or drive an hour and a half away to the Atlantic Ocean to find some unique things to do like the Maine Brews Cruise and many other historical tours and opportunities. Enjoy fresh seafood, wineries, and some unique antiquing that you can't find anywhere else!
Catch a Show at Great Waters
Known for their Great Waters Music Festival, this concert venue offers unique shows that you will not forget. Located only 25 minutes away from our Camp-Resort, in the town of Wolfeboro, NH, this is a great option for a memorable date night.
Visit the Ice Castles
Continue your romantic weekend getaway in the mountains near Woodstock, NH with a stop to The Ice Castles. Explore the wonders of ice caverns, ice slides, and hand-placed icicles in this winter wonderland. This attraction is only open in the winter months, so be sure to schedule your visit!
Your romantic weekend getaway in New Hampshire is sure to be one for the books. Once you select your perfect cottage rental, be sure to check out the variety of attractions our Camp-Resort has available on-site, as well as visit the nearby cities like Tamworth and Ossipee to make the most of your stay. If you're ready to book your romantic cabin getaway, you can give our team a call at (603) 539-6445 or book online.